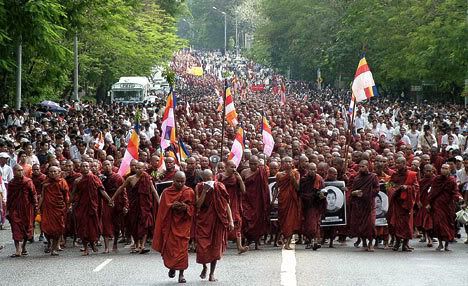 The peaceful protest led by Buddhist monks against the regime in Burma (Myanmar) has been suppressed in a violent
bloodbath
.
Thousands of protesters are dead and the bodies of hundreds of executed monks have been dumped in the jungle, a former intelligence officer for Burma's ruling junta has revealed.

The most senior official to defect so far, Hla Win, said: "Many more people have been killed in recent days than you've heard about. The bodies can be counted in several thousand."

Mr Win, who spoke out as a Swedish diplomat predicted that the revolt has failed, said he fled when he was ordered to take part in a massacre of holy men. He has now reached the border with Thailand.
In what has been termed the "Saffron Revolution," thousands of Buddhist monks have been leading
peaceful marches
against the country's military regime.
On September 23, as many as 100,000 anti-government protesters led by a phalanx of Buddhist monks and nuns marched through Yangon (Rangoon), the largest crowd to demonstrate in Myanmar since 1988. Next day, tens of thousands more monks, joined by civilians, marched peacefully through key areas of several Burmese towns. Indeed, since late August this year, monks and people around Burma have been out on the streets protesting against a sharp hike in fuel prices imposed by the dictatorship on a long suffering people, among the poorest in the world.

The protests were initially triggered by student activists, who, lacking the immunity accorded to monks, were immediately beaten up and detained. Min Ko Naing, a student leader and hero of the 1988 failed uprising against the military regime, who has already spent nearly a decade-and-half in jail, was among those arrested.
Today, reports from inside the country are declaring the
uprising over
and the military junta in control.
Reports from exiles along the frontier confirmed that hundreds of monks had simply "disappeared" as 20,000 troops swarmed around Rangoon yesterday to prevent further demonstrations by religious groups and civilians.

. . .

There, troops abandoned religious beliefs, propped their rifles against statues of Buddha and began cooking meals on stoves set up in shrines.
Words fail...